Here's a Ghostbusters II/politically themed SAT question:
Today's biggest asshat in the universe,
Rush Limbaugh
, is to Barack Obama as the buzzing of flies is to _____.
Yep. Vigo the Carpathian. Born 1505, died 1610. Also known as Vigo the Cruel, Vigo the Torturer, Vigo the Despised, and Vigo the Unholy.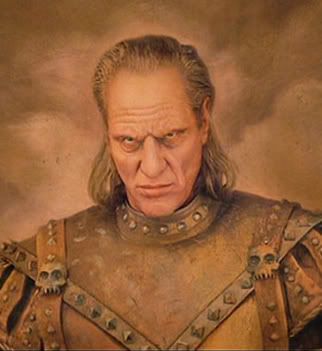 Point is, neither have any effect on those they are respectively trying to make fail.
Here's the invective from Rush:
I could say I hope he fails and I could do a brief explanation of why. You know, I want to win. If my party doesn't, I do. If my party has sacrificed the whole concept of victory, sorry, I'm now the Republican in name only, and they are the sellouts.

I'm serious about this. Why in the world, it's what Ann Coulter was talking about, the tyranny of the majority, all these victims here, we gotta make sure the victims are finally assuaged. Well, the dirty little secret is this isn't going to assuage anybody's victim status, and the race industry isn't going to go away, and the fact that America's original sin of slavery is going to be absolved, it's not going to happen. Just isn't, folks. It's too big a business for the left to keep all those things alive that divide the people of this country into groups that are against each other. Yes, I'm fired up about this.
Never trust a right wing pill popper and never trust a Carpathian. Oh, and don't cross the streams, that would be bad.